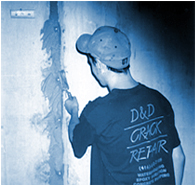 We offer permanent solutions to water proofing problems through solid concrete foundations and exterior wall structures. We can solve the problem before they pose a bigger risk to your property, which could lead to thousands of dollars in repairs. We have the right solutions for your problems.

Not All Solutions Need To Be Expensive
D & D CRACK REPAIR LTD. can provide permanent cost effective solutions to your water penetration or leaking problems (Failing concrete problems).

Top quality workmanship with attention to details is our goal.

Our Specialties Include:
Concrete Restoration / Waterproofing/ Crack & Joint Injection Membranes / Coatings / Epoxy Injection

Certified Experienced, Expertise Staff
Devoted to providing quality service all our customers. All work is fully guaranteed for 5 years. Rest assured the Job will done right!

Guarantee Lowest Price
We will match any quote. Call us today at 905-279-3754.